How to Set Up a Google Ads Account in 2023 Exclusive
Are you ready to advertise on Google? In this post, we're going to show you how to set up a Google Ads account, share some considerations to make beforehand, and equip you with resources to set up your first campaign.
Setting up an adwords account
Before you create a Google Ads account
Setting up a Google Ads account is fairly simple, but in order to run Google Ads effectively, you'll need to have a few things in place first.
1. Make sure your website is relevant and easy to navigate
Your Google Ads account will help you to bring qualified searchers to your landing pages. Once they've made it to your site, it's your job to convince them to convert. To achieve this, you must create landing pages that will compel visitors to take action. If your landing pages are cluttered, lack relevant information, or do not facilitate a conversion, you're throwing money into a black hole and your paid search efforts will be in vain.
Check out our landing page best practices to make sure yours will make the money you put into your PPC campaigns well-spent.
Get inspiration from these good, clean landing page examples.
2. Prepare to commit to this project for the long haul
You won't see the full potential of your account from the start. Cliché as it may be, it's important to recognize that PPC is a marathon, not a sprint. It takes time to establish a strong account structure, expand keyword lists, identify negatives, and test ads/landing pages.
Plus, you are likely to start off with poor Quality Scores, which will hurt your average position and CPCs. You will see your Quality Scores start to shift once you've established your Google "street cred" and proven that you've built an account that offers a positive user experience (this typically takes 4-6 weeks).
Also Like: How Google adwords and Google Adsense Work. (Exclusive 2023)
3. Be ready for some heavier lifting in the first month
Sure, once your account has been up and running for a while, you can sit back and relax. However, your first month will require a bit more heavy lifting. If you've never managed a PPC account before, I recommend taking a few weeks to do some studying (perhaps with one of these free Google Ads training courses.
Once you know the ropes, you can embark on the account build-out, and then for the first few weeks, you will need to monitor your performance pretty heavily. Though it may be tough right off the bat, the hard work will be well worth your while!
4. Identify what your conversion will be
One of the most important things to consider is how you will define a conversion. A "conversion" is the action that you want the searcher to take after they've clicked on your ad and visited your landing page. Different advertisers track different types of conversions. An e-commerce site might want to drive purchases, whereas a plumber may be looking for form fill-outs or phone calls. It is also important that you identify the value associated with a completed conversion.
How to Set Up a Google Ads Account
OK, for you brave souls who have done your research and are ready to get started, here's how you can the ball rolling:
1. Choose or create your Google account
In order to create a Google Ads account, you need a regular Google account. If you use Gmail, that means you already have a Google account so you can skip to the next step. But if you don't have a Gmail address or if it's a personal email address, you'll want to create a separate account for your business.
To create a Google account, go to accounts.google.com and then click Create account > To manage my business.
When creating the account, you have the option to create it under any email.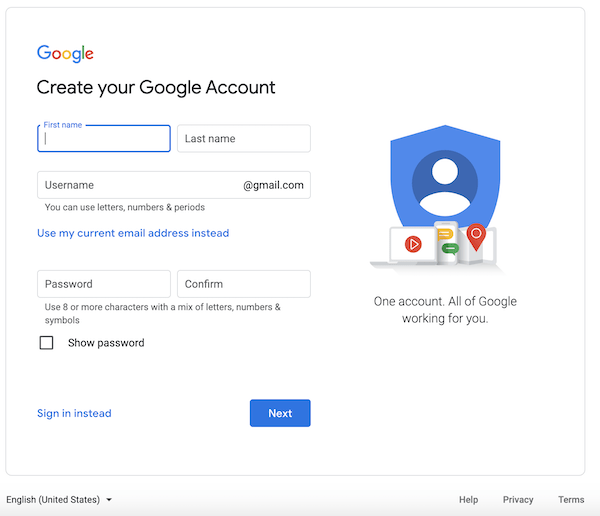 2. Sign up for Google Ads
To sign up for Google Ads, make sure you're logged in to the Google account you just made and go to ads.google.com. Once you've chosen your account, you'll be shown the first step for setting up a new campaign. Don't worry, you can just set up a simple campaign and then pause it if you're not quite yet ready to go live. That brings us to step three.
3. Set up your first campaign
Now Google will immediately take you to the first step of setting up a Smart campaign. You don't need to do this! We also don't recommend it as it's the automated option that gives you less control over your account. Instead, click on "Switch to Expert Mode" below it:
This will allow you to create a campaign from scratch. And we walk you through all the steps to creating your first Google Ads campaign here